Gourmet Profile – Bistro Papillon
Tucked away in an intimate space in the Sydney CBD's Clarence Street, you'll find Bistro Papillon – which, as the name implies, serves classic French cuisine in an atmosphere reminiscent of the small-town bistros that chef Ludovic Gey remembers from his youth in France.
Bistro Papillon is the brainchild of Ludo and his business partner Xavier, who shared a dream to open just such an establishment since they first met in Bath, England more than a decade ago.
"We had talked about it – I had fallen in love with Australia when I was 19 and wanted to come here, and in 2004 I moved to Australia, while Xavier stayed in the UK. I knew there was great potential for French cuisine in Australia, and while we both wanted to open a place together, we still weren't sure how best to go about it."
With 18 years of cooking experience in France and England behind him, Ludo secured a position as head chef in a Pyrmont bistro, and his employer sponsored him to remain in Australia while he kept in touch with Xavier back in England. "I was telling him all the while that there is great potential here – I knew that because I was cooking classic French food in the bistro and the customer feedback was great."
Meanwhile Xavier, who had started out as a waiter in France, had worked his way up to the position of Food and Beverage Manager, and knew the time was ripe for him to open his own business. So just over a year ago, the two friends finally combined their talents and the result is Bistro Papillon.
"Our dreams were always the same, and when he came to Australia we worked on the idea," Ludo recalls. "A little over a year ago, we took over what was a little Italian restaurant in Clarence Street, changed everything, and opened Bistro Papillon. We modelled the ambience after a little restaurant in Bath that we used to go to for lunch – it was my favourite place."
Emphasising that "good food doesn't have to be complicated", Ludo describes his cooking as "simple and honest".
"There's no pretension in it at all – not in the food, or the bistro itself," he says. "We just
tried to create a little piece of France here in Sydney – with our own love of food, music and European tradition.
"It's an intimate space – we only seat 33, and I think people like the simplicity of it, traditional good food and a warm, comfortable environment. It's no fuss, just like at home – we want our customers to feel at home here.
"We try to keep our prices really reasonable and that ensures we have a lot of regular business, from the business people who come for lunch to the evening diners."
With Bistro Papillon centrally located in the heart of the office district, it's no surprise to learn that lunchtimes attract many office workers, so the lunch and dinner menus cater for distinctively different markets.
"During the day we have quite a mixed crowd and you have to please everyone – so we serve popular lunchtime meals like steak and fries. In the evening, it's a different style altogether – that's when people really come to dine."
Bistro Papillon is renowned for its French ambience, which Ludo and Xavier have worked hard to create. "The style is French, the wine list is French, the food obviously, the décor is all imported – in the beginning we were not sure about putting in only French wines, but after a while we realised that's how it had to be, because that's why people were coming and that's what they expected of us. So we just tried to create something really authentic."
Ludo changes the menu every three months to take advantage of the best seasonal produce.
"For three years or so I worked as a butcher, and I love meat – anything that sits on the stove for 2-3 hours, casseroles, traditional beef burgundy, coq au vin, veal blankets – all the old French recipes. We do have a few pasta dishes too, because people love them, and they are often surprised to learn that pasta is part of French cuisine." Game meat is also an important ingredient in French cooking, and Ludo uses a wide variety of Game Farm products in his cooking. "We serve roasted quail breasts wrapped in pancetta with a green peppercorn and mushroom sauce, and we use Game Farm Cornfed Chicken for our coq au vin, it's just beautiful! At lunchtime we serve a 'Poulet en Cocotte', which is chicken cooked in a pot and braised with Mediterranean vegetables, and we also serve an oven roasted confit of duck leg with a white bean cassoulet and a little red wine jus, this is just the right time of year for it!
"There's also a braised rabbit papadelle pasta and venison terrine, so you can see game meat plays
a big part in the menu. European food in general uses a lot of game. It's a very cold climate over there – not the same as here! – and traditional game recipes are very warming. Also, it was very easy to get hold of. When I was a kid we would have rabbit or venison every Sunday – game was all around you in the woods, you went hunting and there it was, fresh and beautiful. You would not believe how amazing a wild boar can taste, if you cook it right in red wine and let it sit!" Of course, these days there's no need to hunT your own game and Ludo is very happy with his supply from Game Farm. "Game Farm was the right choice for me, because of the diversity of their products – I can get all the game meat I need from the one supplier, at a competitive price. And I've never had any quality issues – it's always consistent, I've never had to send anything back, the freshness and flavour is always beautiful."
Ludo believes the Australian public is becoming more familiar with game. "I think a lot of our customers keep coming back because they know we serve it, and cook it well. And we offer a good choice – if you don't feel like the quail you can have the duck, or the veal or venison or rabbit. Working with game definitely helps us to stand out from the crowd."
Tags:
Bistro Papillon
,
Classic French Cuisine
,
Gourmet Profile
,
Ludovic Gey
Cooking with... David Bitton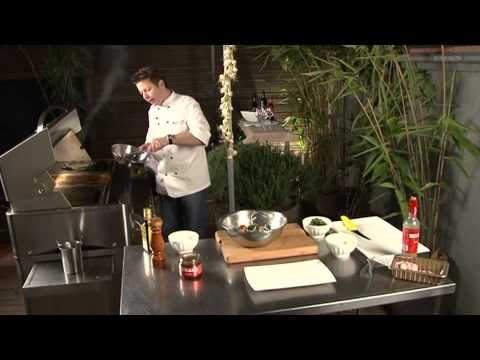 Most Popular Posts
Recent Posts
Archive